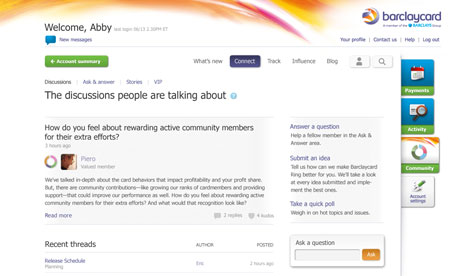 /// How social communities are shaping the future of established brands
Social is a serious business, judging by the conversations that took place last week in San Francisco at Lithium's LiNC conference. Brands are no longer content to have their social media conversations exist purely outside of their control in siloed social networks; instead, they're bringing the conversation back to their own websites and using it to reinvent themselves.
Kicking off LiNC 2013, Lithium's president and CEO Rob Tarkoff said that putting your customer service offering at the top of your business's agenda has the power to modernise and reposition your company for the connected age.
Whereas previously people had predicted the death of the corporate website in favour of social networks, in 2013 brands are proving that they can "own" social and use it to change their proposition.
"To succeed, brands must create trusted content and engage customers in conversation on their own websites to move their business forward. More than ever, customer experience is the battleground for brands to differentiate themselves and to unlock the real power of social," said Tarkoff.
When it comes to using social as a tool for the reinvention of a well established business, the conference highlighted one example from a 320-year-old bank, Barclays, where its US-based credit card arm has offered a glimpse of how giving your customers a voice and a place to interact with each other can help you to build a disruptive business proposition.
Trust in banks is at an all-time low. Barclays needed to work out how to become vulnerable and how to become incredibly transparent to community members in order to gain and earn that trust. To do this, it put together a unique proposition in the form of its Barclaycard Ring credit card, underpinned by an active online community which has a voice in how the business is run.
"I remember the day when I walked into my boss's office, the CEO of the company," recounted Paul Wilmore, managing director, consumer products, Barclaycard US. "I said 'I want to create a product that's half the industry's benchmark in terms of interest rate, I want to share profit generated by this card back to its members and in order to do that, I want to share the company's profit and loss associated with this community up on the website every month.'
"After a long, uncomfortable pause, he said 'You're kidding, right?'"
Wilmore stood by his ambition to do something radical to change perceptions: "I said, 'No, this is what it's going to take to change the mindset, to make sure that community members start viewing this as trusted content.'"
The Ring product gives a platform for its customers via a forum on its own website; sharing their profit and loss figures with the community each month and letting their community decide what to do with a share of their profit — like a virtual co-operative or credit union.
The hope is that this level of engagement encourages their customers to exhibit good enough behaviour to make the card's rate of 8%, nearly half the industry benchmark, profitable.
"In a lot of ways what we're trying to create through Barclaycard Ring is a virtual credit union. We engage with the community to decide what to do with [a share of our] profit – whether it goes back to the members in the form of statement credit, or whether they aggregate that and put it towards a charitable donation. We're trying to engage the community to decide those things and decide other things about how the programme works, features and products," says Wilmore. "It's changing the relationship that we have with our customers."
The term "sharing economy" has been coined to describe businesses established on the principles of peer-to-peer sharing, led by well publicised startups like Airbnb, Etsy and Uber, as well as ventures like giffgaff.
Tarkoff pushed home the point by highlighting giffgaff as another example of a established business disrupting themselves through social – a mobile virtual network operator launched by Telefónica, which has fewer than 50 employees and millions of subscribers andwhose community does everything for them: marketing, sales and service.
"giffgaff [is] leading the peer to peer, sharing economy, [and] businesses like Barclays can transform themselves to be peer to peer. Look at businesses like Airbnb – they're exploding. Existing businesses are going to want to disrupt themselves."
Paul Wilmore concluded his talk with his view on what it takes to bring disruptive new ideas to an established business: "It may be a little easier for me to be disruptive, because Barclaycard is not a household name in the US. I'm a challenger brand. But my advice would be, if you're going to be disruptive in the market, you've got to be bold and you've got to take big swings at it. Showing your company's P&L on the website every month is a pretty bold move and if you want to be disruptive, that's what it's going to take."
Link: How social communities are shaping the future of established brands
The Guardian – Chris Smith, Content Coordinator
---
Leave a Reply
You must be logged in to post a comment.