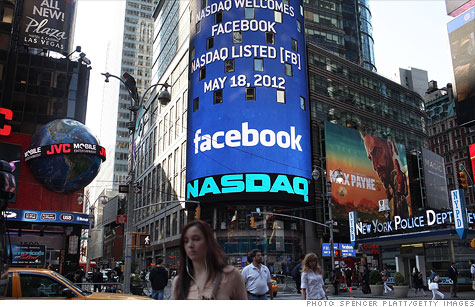 /// Facebook trader: Nasdaq 'blew it'
NEW YORK (CNNMoney) — Traders weren't expecting Facebook to make its big stock market debut at the sound of the opening bell last Friday, but they weren't anticipating a two-hour delay either.
In alerts sent to traders Monday morning, Nasdaq said the trading delay was due to a "technical error."
"People didn't know where their orders stood, and it became a big guessing game," said one trader, who had put in an order to buy Facebook shares ahead of the opening bell. "Nasdaq couldn't handle it — they blew it."
Nasdaq said it had tried to "conclude the quoting period, execute the IPO cross, and print the opening trade to the tape for the Facebook IPO" at 11:05 a.m. ET.
Typically, that results in Nasdaq's system matching up buy and sell orders on the exchange's electronic marketplace. But on Friday, the process fell into an unexpected loop.
That's because additional order modifications came in before the opening trade could be printed. Since the system is designed to factor in those changes, the "IPO cross" process began again.
After it was completed for a second time, order modifications were once again received, forcing another recalculation.
"This condition persisted, resulting in further delay of the opening print," said Nasdaq.
Twenty minutes later, at 11:30 a.m. ET, Nasdaq switched to another system that matches orders, allowing the exchange to finally complete the process.
"Nasdaq was inundated with orders, as they should have been because of the magnitude of the issuance, but the problem was that they promised everyone an 11 a.m. start," said the trader. "Then they moved it to 11:05, and then once they realized they had a real problem, there was radio silence. Instead of telling people what was going on, they opened the stock without resolving the glitch."
Though Facebook (FB) had started to trade, switching to another system last-minute "resulted in unintended consequences," said Nasdaq.
Nasdaq had only accepted orders up until 11:11 a.m. ET, so any new orders, modifications and cancellations made after that point, but ahead of the opening trade, were not part of the final "IPO cross" process.
Nasdaq said it eventually delivered confirmations for outstanding order executions and cancellations at 1:50 p.m. ET.
The trader said he didn't receive a report of how many shares he bought and how much he paid for them until three hours after his order was executed. Typically, that report is transmitted instantaneously, he added.
He noted that GM's (GM, Fortune 500) 2010 IPO on the New York Stock Exchange was almost as large as Facebook's — in terms of size, not hype — and it went off without a hitch.
Though he will continue to buy shares of companies that list on the Nasdaq on their first day of trading, despite the experience with Facebook, the trader said he would think twice if he were the listing company.
To prevent a repeat of Facebook's botched opening, Nasdaq has changed its process to no longer accept order modifications once the final calculation has begun.
Nasdaq also said that exchange members who were impacted by its errors "may seek financial accommodation" if they had submitted orders between 11:11 a.m. ET and 11:30 a.m. ET Friday that were either not executed or executed at an inferior price. Claims must be submitted in writing by noon.
Nasdaq said it is also looking to implement a procedure for the Financial Industry Regulatory Authority (FINRA) to review all the accommodation requests and provide a report to Nasdaq and its board with the total value of the valid claims.
Shares of Nasdaq OMX Group (NDAQ) fell 4% Friday, but bounced back 1.6% on Monday.
Despite the snags, more than 80 million Facebook shares changed hands in the first 30 seconds of trading Friday. Volume spiked to about 567 million shares by the end of the session, setting a new volume record for IPOs.
---
Leave a Reply
You must be logged in to post a comment.